Thursday, March 12th
DREAMTRANCER & ROSEOFDARKNESSS
present:
INDENIAL NYC
JASON TAKES MANHATTAN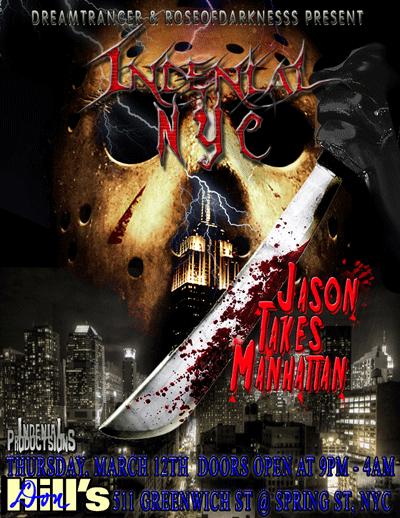 DJ'S: DREAMTRANCER, SIR & CHRIS #2
Live Performances by:
THE SAINTS OF PAIN - 12:30
VULGARAS feat. Devyl Dave from BILE - 11:30
Dudes of Doom - 10:30
Imbolg - 9:30
In celebration of the TSOP mad scientist DR. AVI's b day and graduation.
One year anniversary of the TSOP debut album release of KILLING JAR
There will be an in-Character Jason Vorhees!!
Complimentary hockey masks and toy machetes for the crowd
There will be a raffle that will include the following prizes:
One of Priest's basses used in the recording of the album,
signed by all four of The Saints.
Signed set of drum sticks by Uriel
Body bags from the LA Coroner's Office
Cases by Coffin CASE
and
Free copies of the Album Killing Jar
ADMISSION $10
$8 REDUCED
(DRESS AS A BLOODY VICTIM FOR REDUCED)
Doors 9 PM
21 and over, ID a MUST!